Make beautiful, shareable moodboards in minutes with Milanote
Thực hiện theo hướng dẫn từng bước này để tìm hiểu quy trình hiện đại tạo Moodboard trong Milanote, một công cụ miễn phí được các Marketer hàng đầu sử dụng.
How to make a moodboard in 10 easy steps
A moodboard is a collection of visual materials that evoke a certain style or concept. Designers, illustrators, photographers, filmmakers and all types of creative professionals create moodboards to communicate the "feel" of an idea. They can be a powerful starting point in a creative project—a visual reference for the team and a springboard for new ideas.
But moodboards have come a long way since the days of attaching printouts to physical boards or creating static PDFs. Digital moodboards have the ability to include video, bring together a remote team, and evolve over time—unlocking a whole new world of creative possibilities.
In this guide, you'll learn the modern approach to creating a moodboard using Milanote. Remember, the creative process is non-linear, so you may find yourself moving back and forth between the steps as you go.
1. Set the direction of your project
Moodboards can be literal and practical (featuring fonts, color schemes and images that you actually plan to use in the final piece of work) or they can be more about exploring tone and mood. You can tackle these two different types sequentially, or just do one at a time.
Remember, a moodboard is all about exploration, so don't get too attached to a particular direction. It's important to keep an open mind about what the right solution might be.
Once you've found a direction, give your moodboard a name and jot down some initial ideas in a text note before you start to collect inspiration.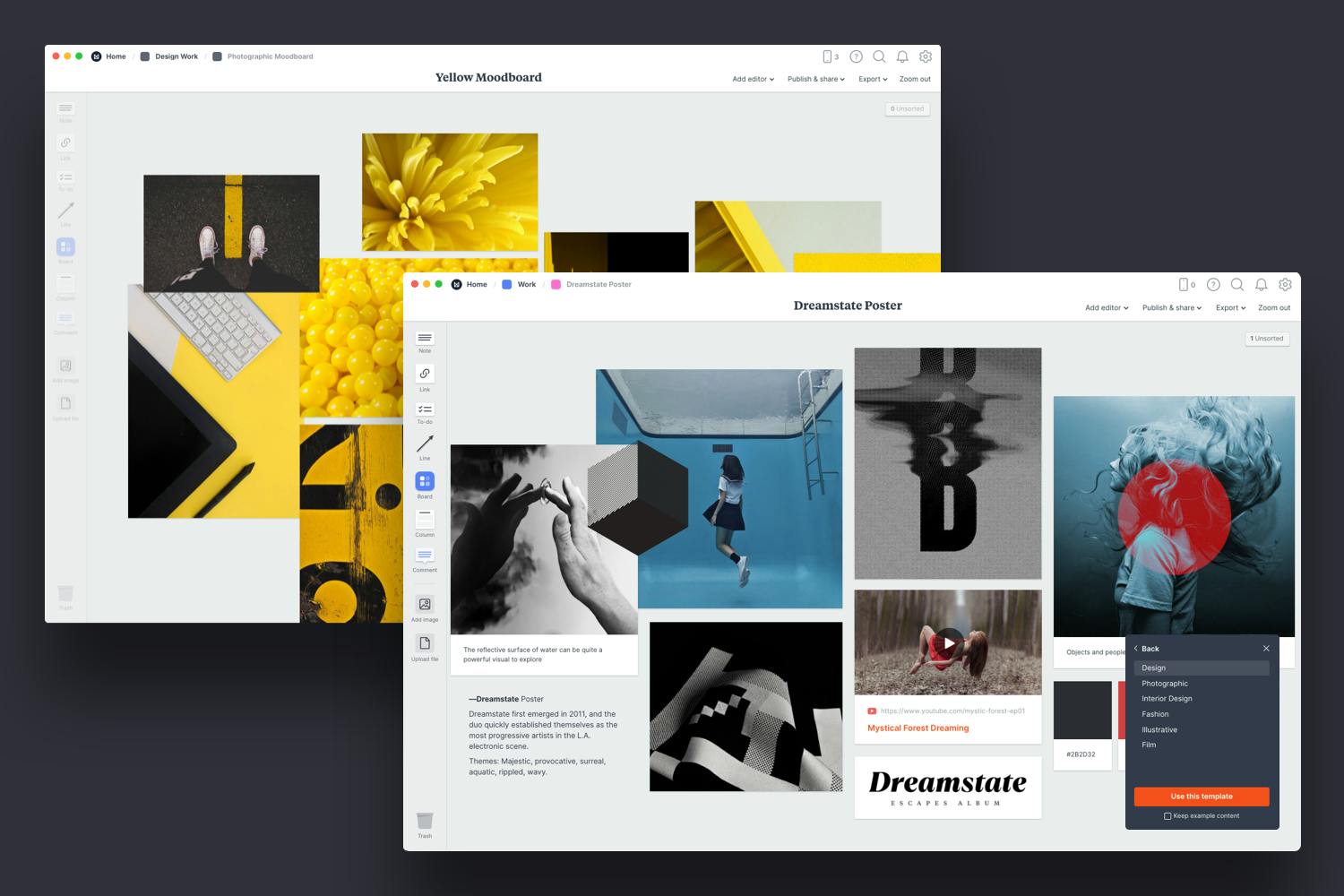 How to do this in Milanote
Create a new board for each moodboard direction.
Save time with a moodboard template.
Pro tip:
Creativity often responds well to some constraints or limitations. Picking a keyword, theme, color or style can be a great way to give some direction to your moodboard.
2. Collect existing material
Now that you've established the direction for your moodboard, add any written content you have. This might include brand values, positioning statements, tag-lines or any other parts of the brief that will inspire you and keep you on track.
Next, add any logos, existing expressions of the brand like websites, design elements or photography. These might not make it into the final moodboard, but they're still a great place to start.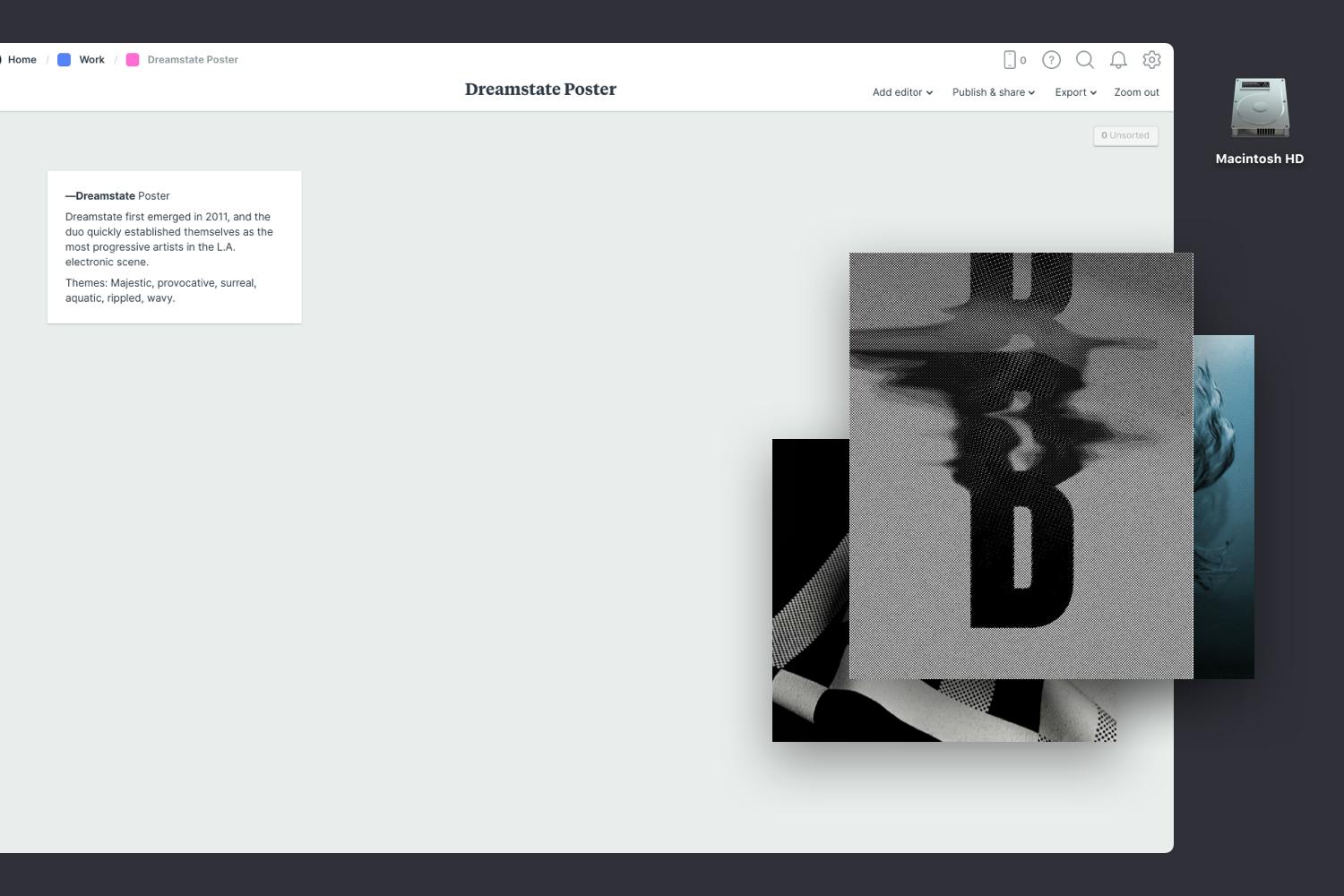 How to do this in Milanote
Drag files from your computer.
3. Add inspiring imagery
The imagery you choose to include in your moodboard can have big influence on the look and feel of your project, so choose carefully! These images can define things like tone, cropping, lighting and color.
If you're the type of person who keeps a collection of images in an inspiration library, now's the time to see if you've already got something that could work. Or you can start by searching for visual elements from around the web. There are lots of fantastic sites where you can find great visual inspiration for free, like Dribbble, Behance and Designspiration.
Don't worry about organizing the images just yet, that step will come later.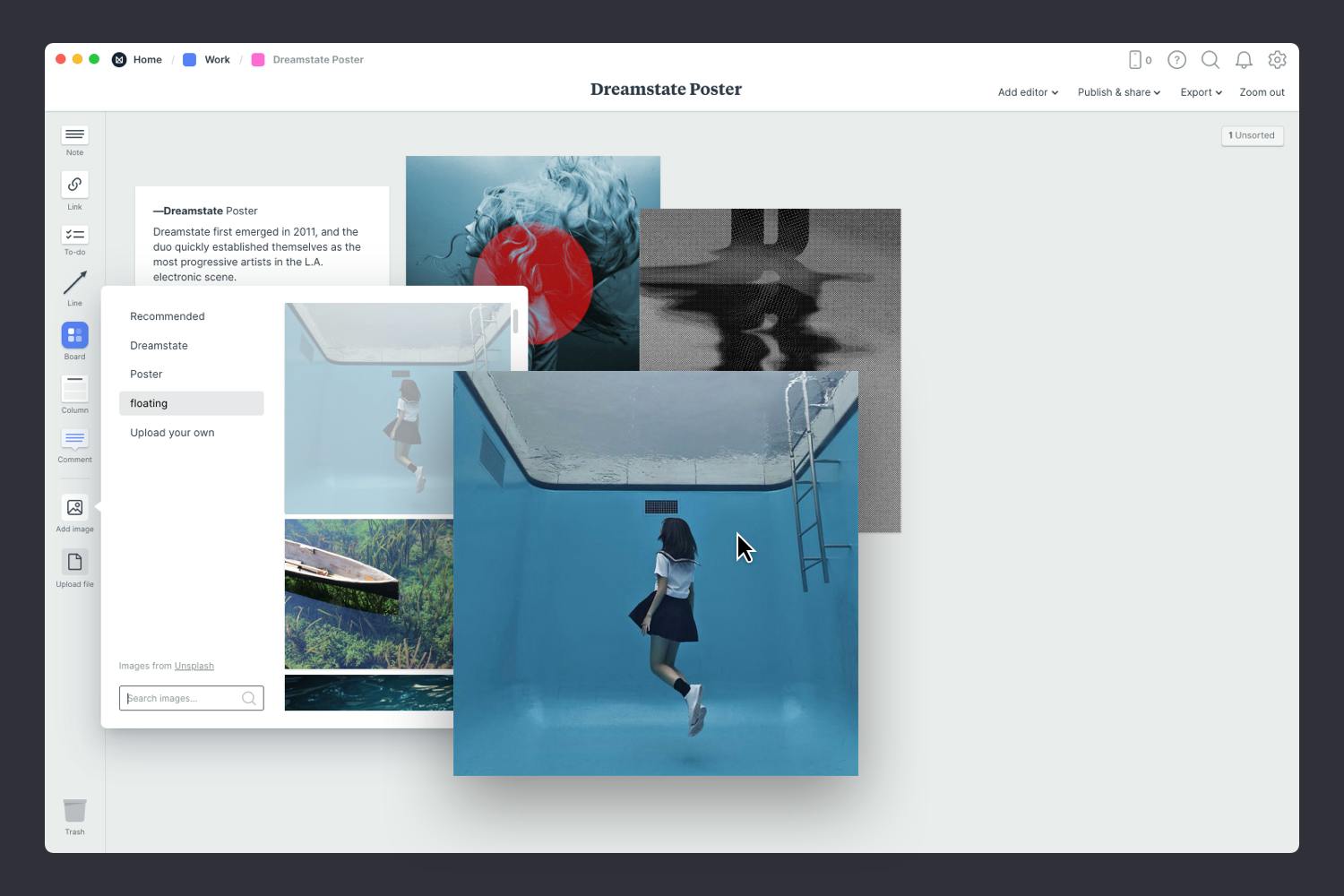 How to do this in Milanote
Use the built-in image library.
Install the Milanote Web Clipper
Save images from other websites straight to your board.
4. Add examples of motion & sound
With an online moodboard it's possible to embed examples showing how movement and animation could contribute to a piece of creative work.
Grab some animated GIFs from Giphy, video from YouTube or even audio from Soundcloud to add motion and depth to the look and feel of your board.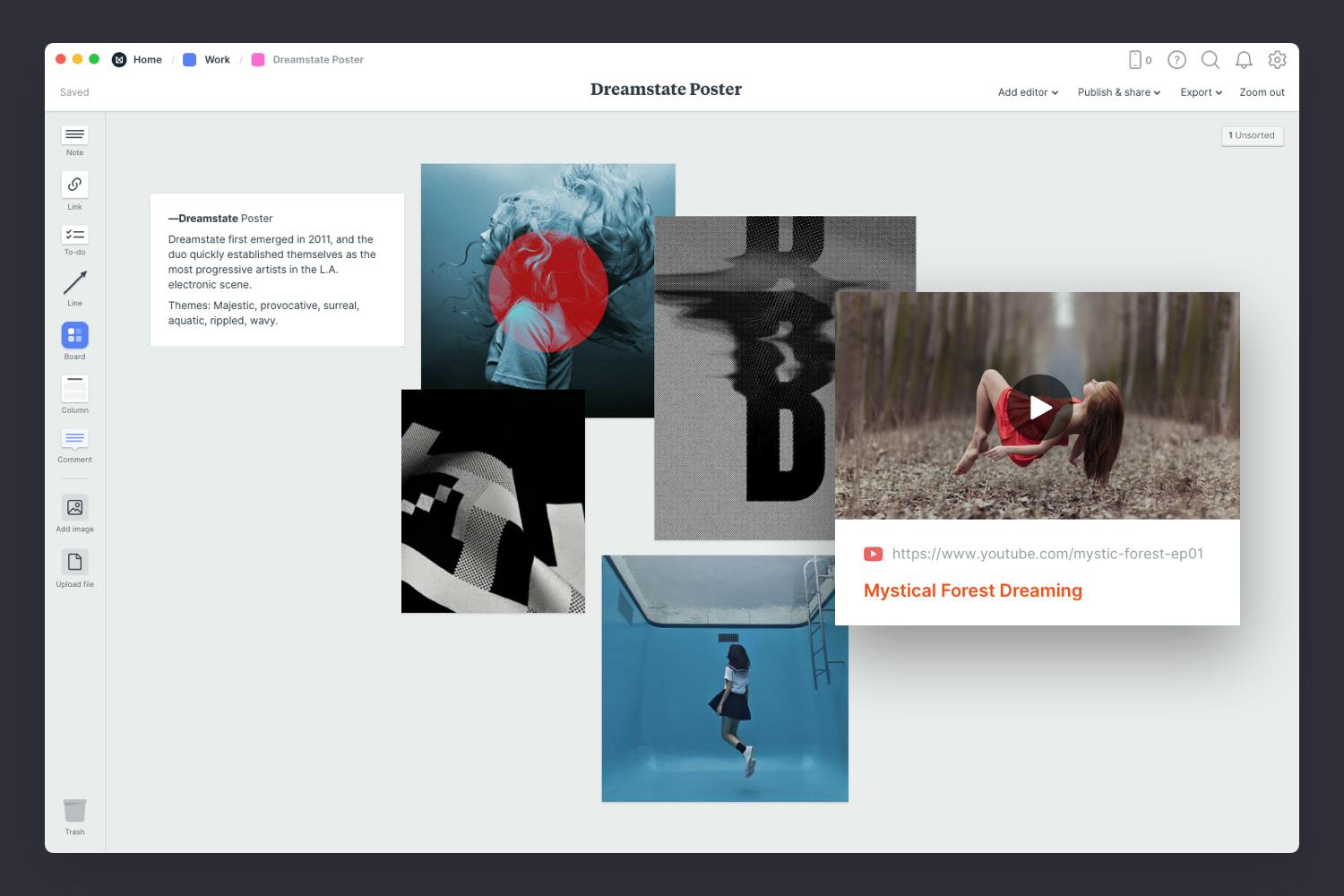 How to do this in Milanote
Embed Youtube videos or audio in a board.
Share guide
Enjoying this guide? Share it with your creative community…
"Learn how to make a beautiful moodboard in minutes".
Click to tweet
5. Add color, fonts & files
Color can be a great way to express a particular feel, personality or energy. As painter Johannes Itten said, "Color is life."
Tools like Kuler can be a great starting point for finding colors that complement the brand you're working with. Another trick is to pick colors directly from the images and photos you've added to the board.
Written language can also add a lot to a moodboard—through specific words, type or metaphors. Typography galleries like Typewolf are a great way to explore different font combinations and weights.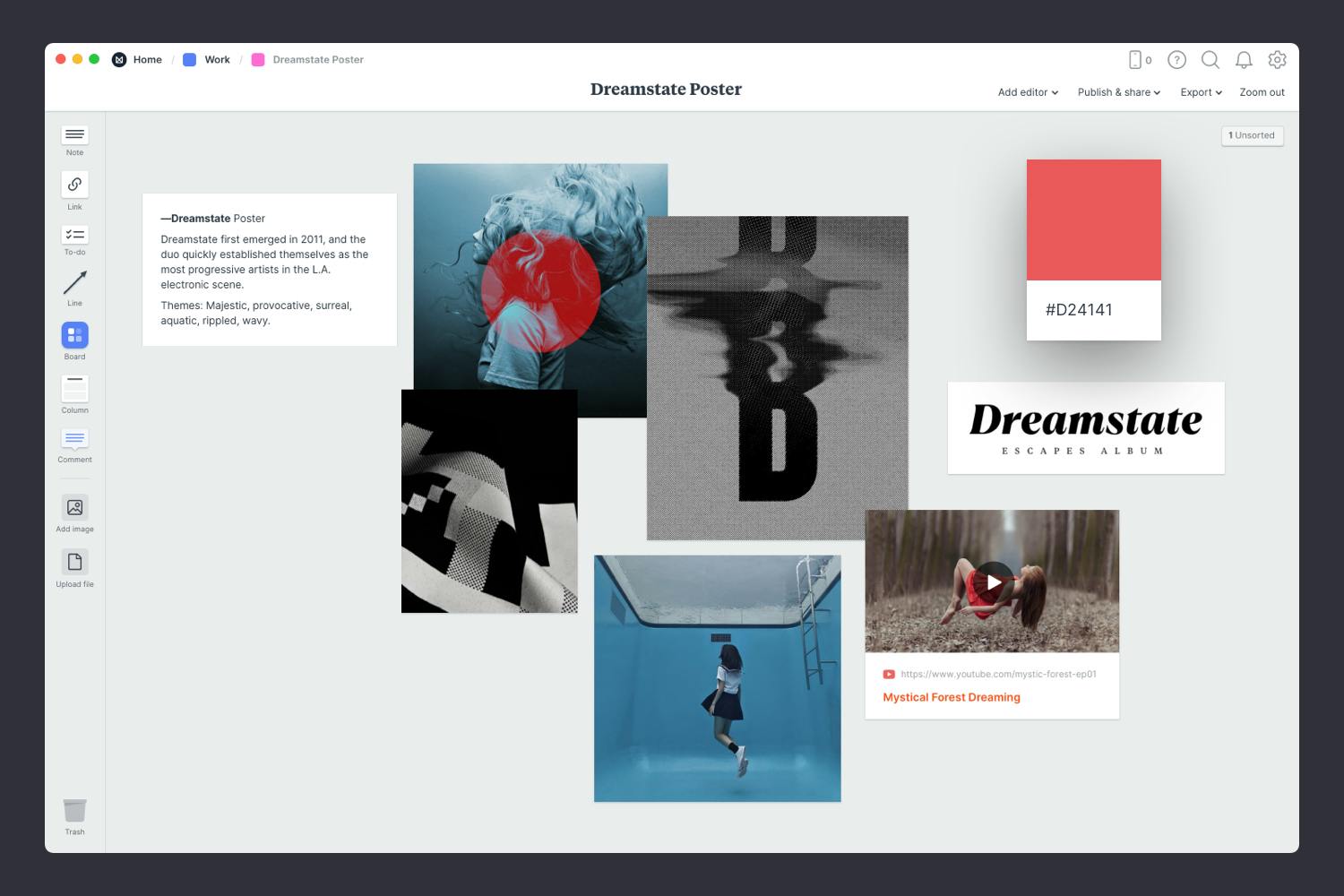 How to do this in Milanote
Add a color swatch to a board.
Upload a file or document.
6. Transform your board from messy to organized
Once you have all your inspiration in one place, the next step is to arrange your ideas to create the perfect composition.
This process can take a while, and it's common to feel like you have no idea how the moodboard will come together. You'll probably have more material than you need and it might look scattered. That's okay! Creativity is an act of transformation.
Start by exploring composition and introducing hierarchy. Place a key element such as a logo to anchor your board, and change the size and position of the remaining elements to indicate their importance and relationships to one another.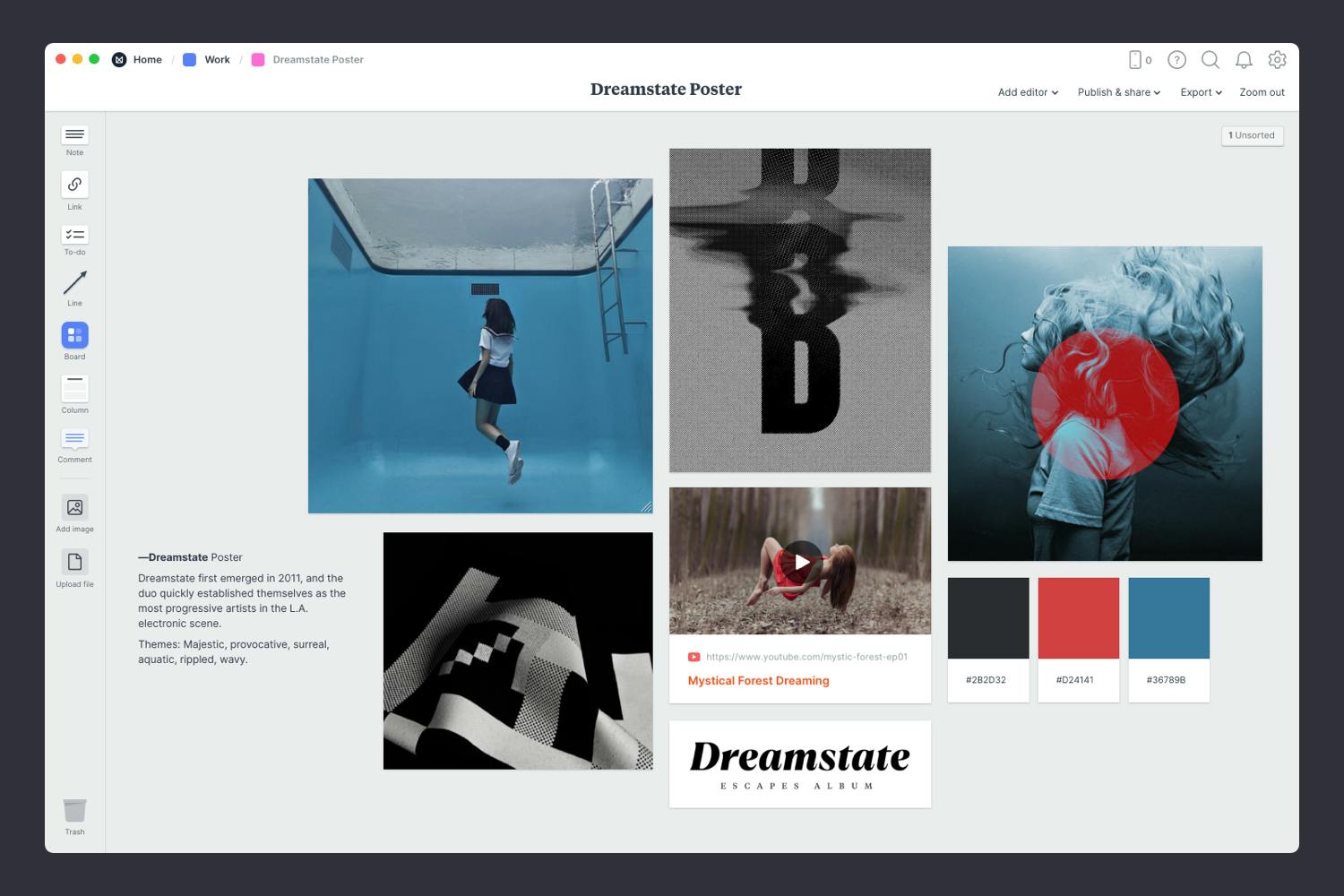 How to do this in Milanote
Resize your images to add hierarchy.
Crop images.
Pro tip:
Step away—the best creative thinking often happens in the idle moments where we allow our mind to wander. So make space, be open to new ideas and connections and embrace the mess.
7. Remain open to inspiration, wherever you are
You never know where or when you'll find inspiration—it could strike you in the shower, or as you're strolling the isles of the grocery store. So make sure you have an easy way to capture new ideas on the go.
As creative director Grace Coddington said, "Always keep your eyes open. Keep watching. Because whatever you see can inspire you."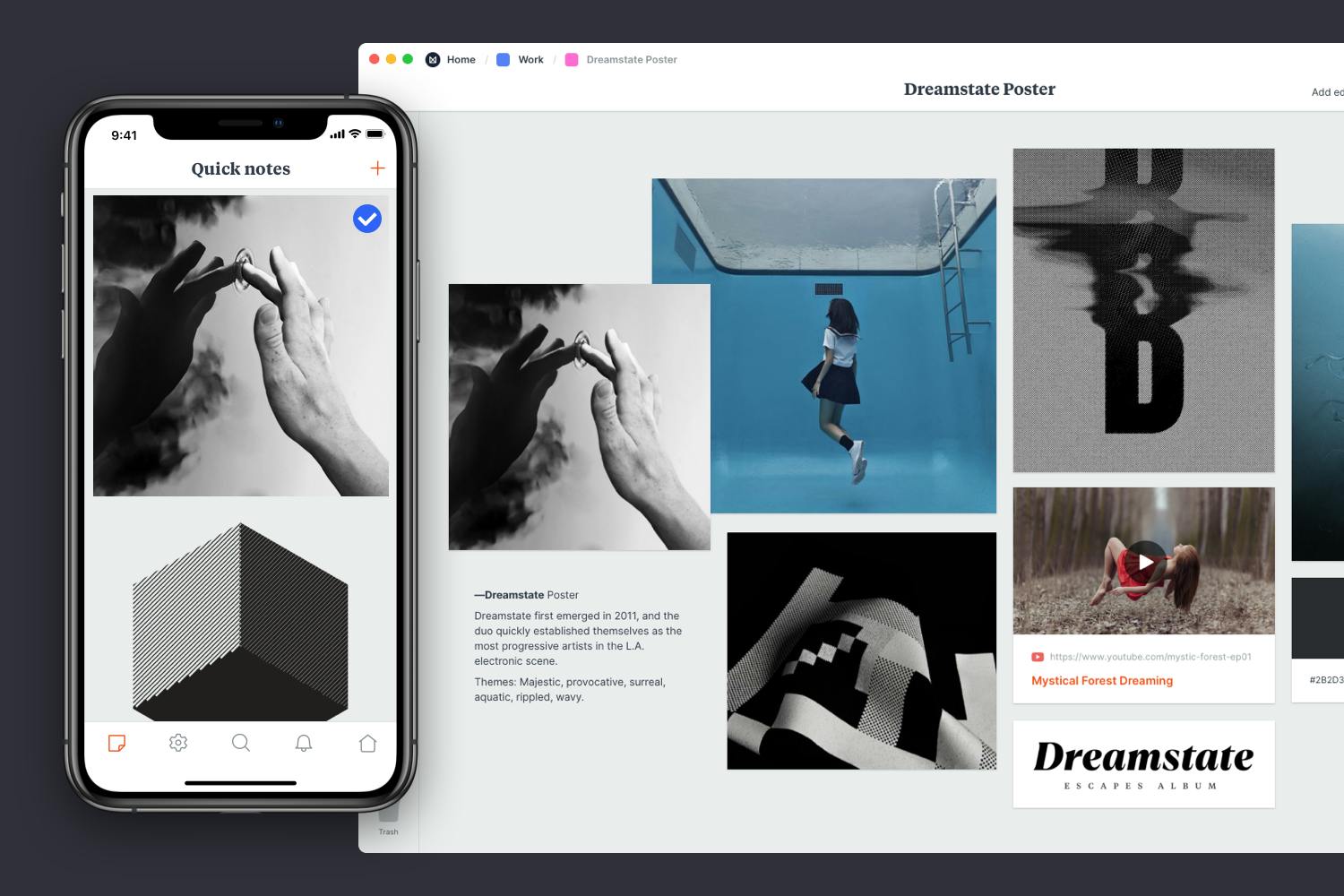 How to do this in Milanote
Download the Milanote mobile app
Save photos straight to your Moodboard.
8. Explain your thinking
If you're a visual thinker, a moodboard is an invaluable tool to convey the look and feel of your project in a way that sometimes words cannot. But if you're planning to share your moodboard with a client or team it's important to include some written notes about your thought process. This will help explain your ideas and keep everything in context.
You don't have to go into too much detail—in a modern moodboard this could be in the form of notes, labels or even emojis.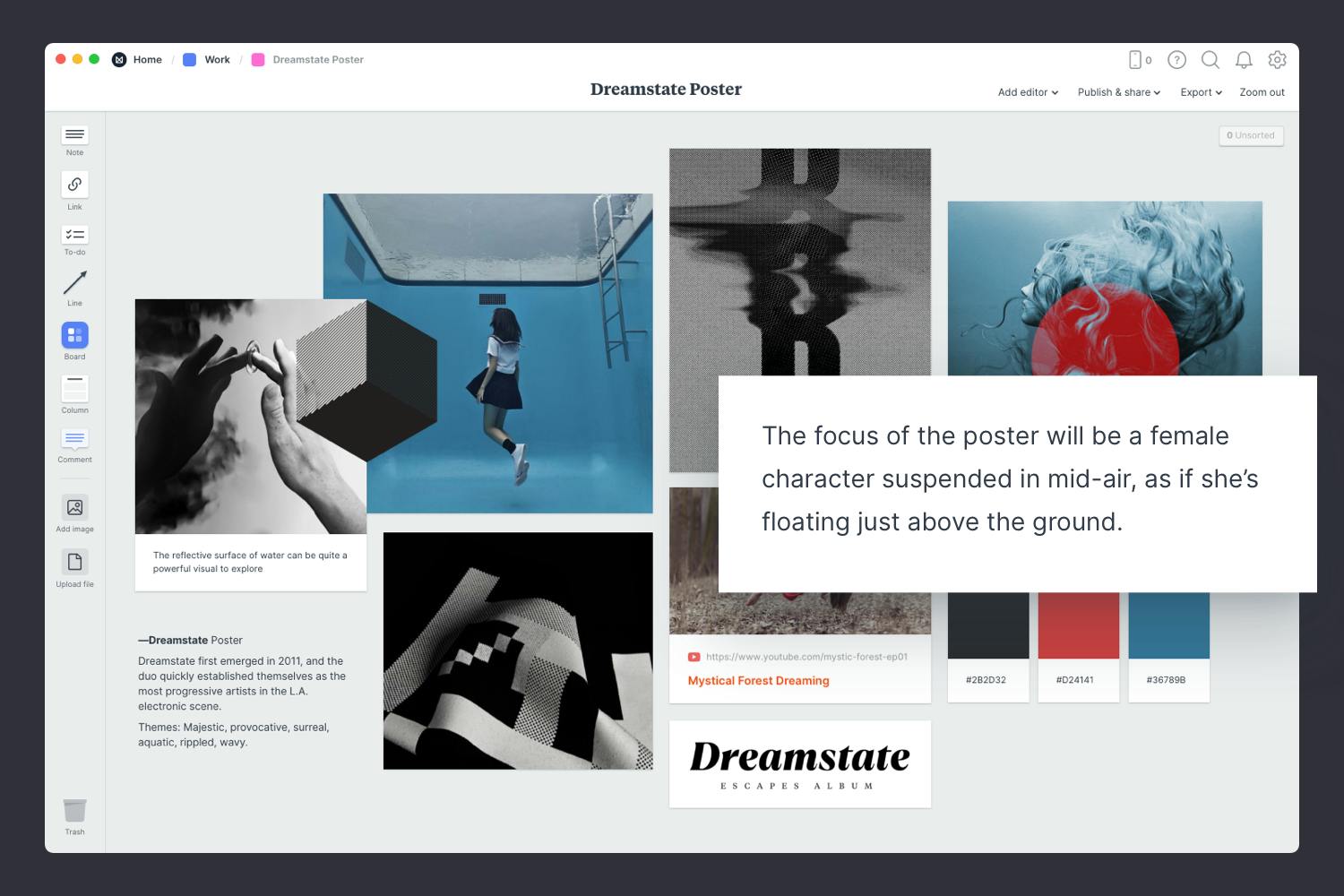 How to do this in Milanote
Add a caption to an image.
Add notes to your board.
9. Collaborate and build on your ideas
Whether you're working on a client project or collaborating with a team it can be helpful to bounce ideas off other people. As writer Louisa May Alcott said, "It takes two flints to make a fire."
A digital moodboard is especially helpful for this step as you can easily connect and collaborate online. Bringing everyone onto the same page (figuratively and literally!) in real-time allows you to collaborate on concepts, ensuring a consistent look and feel for your project.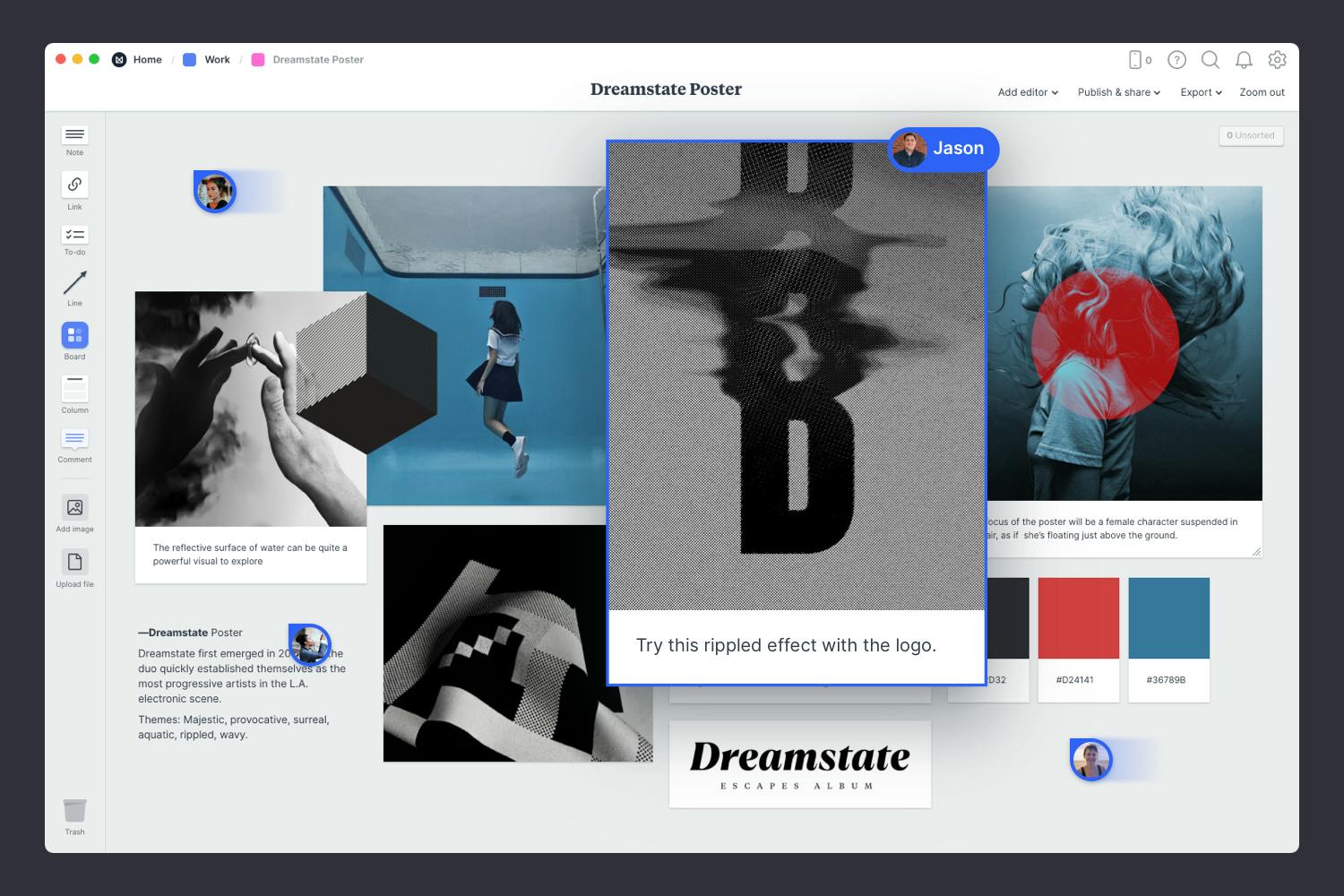 How to do this in Milanote
Invite someone else to edit to your board.
Collaborate in real time.
10. Ask for feedback
With any creative technique or project, it's important to be open to constructive criticism. Now that the first version of your moodboard is done it's time to ask for specific feedback on color, tone, mood, and type. Make sure you stay open to suggestions and improvements and try not to take criticism personally.
If you're not sure how to deal with the feedback you get, writer Neil Gaiman has some insight: "Remember: when people tell you something's wrong or doesn't work for them, they are almost always right. When they tell you exactly what they think is wrong and how to fix it, they are almost always wrong."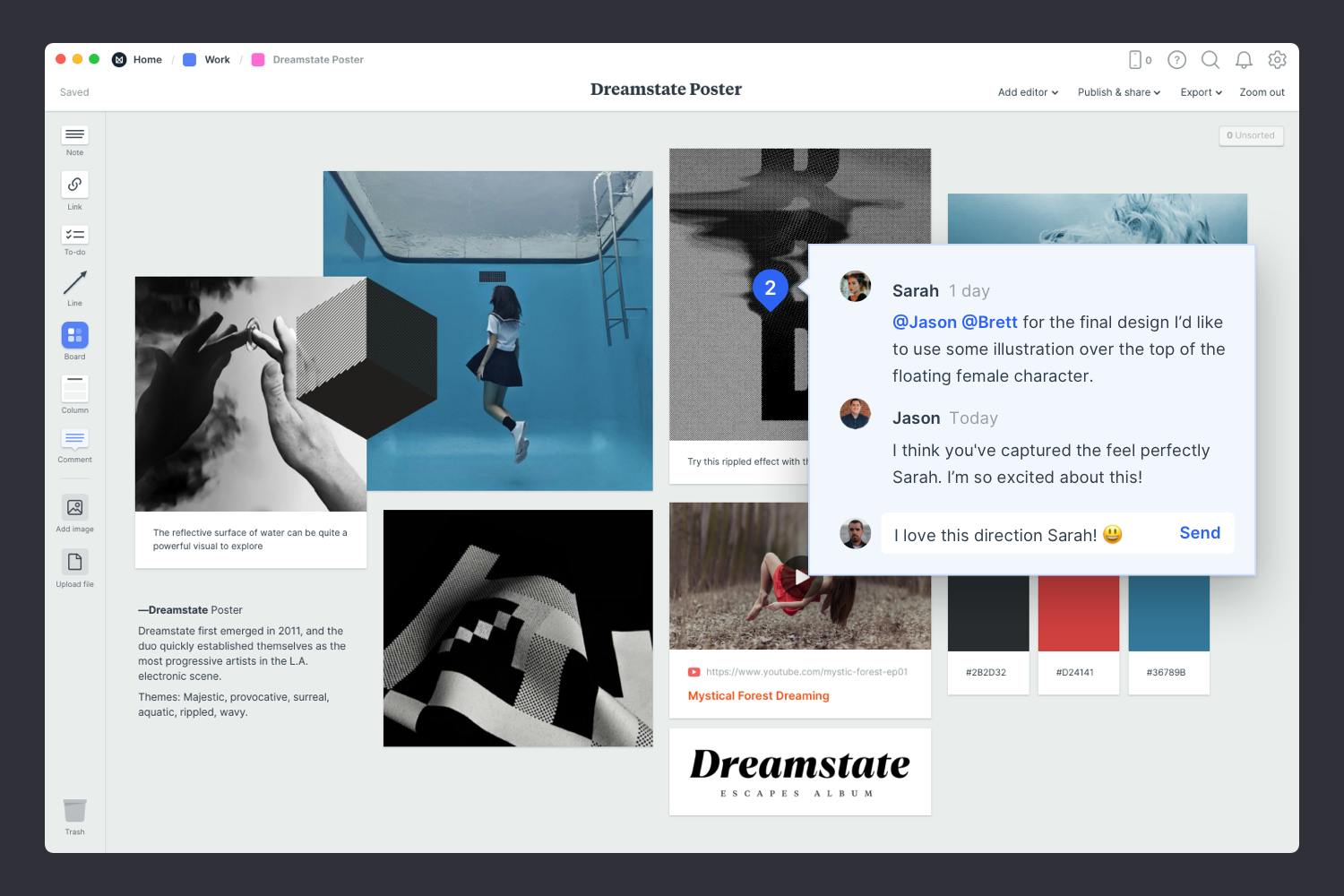 How to do this in Milanote
Start a comment thread.
Mention teammates to get their attention.
And you're done!
Now that your moodboard is complete, you have a powerful starting point for your creative project. Remember, you can create multiple moodboards to explore different visual directions. Get inspired with our moodboard templates.